Fundraiser by SHIBARMY
SHIB DREAM NFT DONATIONS WCK
Supporting
World Central Kitchen
Fundraiser by SHIBARMY
SHIB DREAM NFT DONATIONS WCK
Supporting
World Central Kitchen
About this Fundraiser
The Shib Army believes that no one should ever have to go hungry. World Central Kitchen is out there turning this dream into reality. They're not just an organization; they're a bunch of heroes whipping up hot meals and serving them with a side of hope. They remind us that a little bit of kindness and a lot of teamwork can fill bellies and hearts. And for us in the Shib Army, it's about rolling up our sleeves and getting behind the folks who are out there on the front lines, making sure that when disaster strikes, nobody has to wonder where their next meal is coming from. It's about being part of something bigger, where every single person can make a difference.
Learn more about this organization
Donation Profile: https://thegivingblock.com/donate/world-central-kitchen
Website: https://wck.org/
Twitter: @WCKitchen
Statement: World Central Kitchen (WCK) uses the power of food to nourish communities and strengthen economies in times of crisis and beyond. WCK has created a new model for disaster response through its work helping devastated communities recover and establish resilient food systems. We've served more than 50 million fresh meals to people impacted by natural disasters and other crises around the world in countries including The Bahamas, Indonesia, Lebanon, Mozambique, Venezuela, and the United States. WCK's Resilience Programs in the Caribbean and Central America have trained hundreds of chefs and school cooks, advanced clean cooking practices, and awarded grants to farms, fisheries and small food businesses while also providing training and networking opportunities. Learn more at wck.org.
$

996

raised from $

10000

goal.
Donation data updated every 15 minutes.
All USD amounts are estimates based on exchange rate at time of transaction and are not reflections of the current estimation or value of any cryptocurrency at time of viewing.
Use your platform as a 
generosity generator.
Launch your own fundraiser and directly support your favorite causes with help from your family and friends.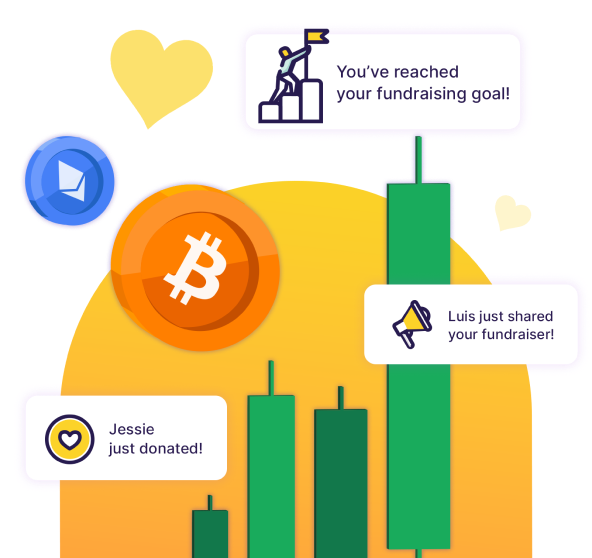 Thousands of organizations fundraise with crypto,
stock and more through The Giving Block
Tap into the fastest growing donor demographics and accelerate your fundraising
with non-cash assets like cryptocurrency, stock and Donor Advised Funds.