Fundraiser by Shib Army
Shib Dream NFT Collection STJ
Supporting
St. Jude Children's Research Hospital
Fundraiser by Shib Army
Shib Dream NFT Collection STJ
Supporting
St. Jude Children's Research Hospital
About this Fundraiser
The Shib Dream is more than just a vision—it's a promise from the Shib Army that we're in this fight together, especially when it comes to our kids facing their toughest battles. St. Jude Research Hospital stands as a pillar of that promise. They're not just a hospital; they're a fortress against fear and a home to hope where families find refuge and kids get a fighting chance against illness. It's where doctors and researchers join forces to outsmart sickness, and no family ever sees a bill. For us in the Shib Army, it's about standing shoulder to shoulder with these warriors in lab coats and scrubs, ensuring that every child has a shot at a brighter tomorrow. It's our way of showing that when we come together, compassion is our strongest weapon.
Learn more about this organization
Donation Profile: https://thegivingblock.com/donate/st-jude-childrens-research-hospital
Website: https://www.stjude.org/
Twitter: @StJude
Statement: St. Jude Children's Research Hospital is leading the way the world understands, treats and defeats childhood cancer and other life-threatening diseases. Our purpose is clear: Finding cures. Saving children.® We are the only National Cancer Institute-designated Comprehensive Cancer Center devoted solely to children. Treatments invented at St. Jude have helped push the overall childhood cancer survival rate from 20 percent to more than 80 percent since we opened more than 50 years ago. And we won't stop until no child dies from cancer. Families never receive a bill from St. Jude for treatment, travel, housing or food – because all a family should worry about is helping their child live.
$

1508

raised from $

10000

goal.
Donation data updated every 15 minutes.
All USD amounts are estimates based on exchange rate at time of transaction and are not reflections of the current estimation or value of any cryptocurrency at time of viewing.
Use your platform as a 
generosity generator.
Launch your own fundraiser and directly support your favorite causes with help from your family and friends.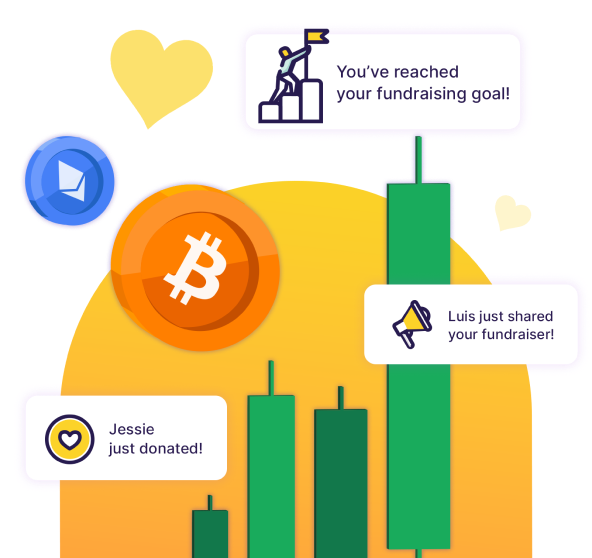 Thousands of organizations fundraise with crypto,
stock and more through The Giving Block
Tap into the fastest growing donor demographics and accelerate your fundraising
with non-cash assets like cryptocurrency, stock and Donor Advised Funds.