Fundraiser by Feda Mecan
Rapid Maui Help and Support
Supporting
World Central Kitchen
Fundraiser by Feda Mecan
Rapid Maui Help and Support
Supporting
World Central Kitchen
About this Fundraiser
The World Central Kitchen has their feet on the ground in Maui from day 1 on. They are working with local chefs to feed the people who lost everything. I am matching. I will be matching all donations that come in until I have 30.000 in. Donate where ever you can, but be aware that you donate to the right people.
Learn more about this organization
Donation Profile: https://thegivingblock.com/donate/world-central-kitchen
Website: https://wck.org/
Twitter: @WCKitchen
Statement: World Central Kitchen (WCK) uses the power of food to nourish communities and strengthen economies in times of crisis and beyond. WCK has created a new model for disaster response through its work helping devastated communities recover and establish resilient food systems. We've served more than 50 million fresh meals to people impacted by natural disasters and other crises around the world in countries including The Bahamas, Indonesia, Lebanon, Mozambique, Venezuela, and the United States. WCK's Resilience Programs in the Caribbean and Central America have trained hundreds of chefs and school cooks, advanced clean cooking practices, and awarded grants to farms, fisheries and small food businesses while also providing training and networking opportunities. Learn more at wck.org.
$

31216

raised from $

100000

goal.
Donation data updated every 15 minutes.
All USD amounts are estimates based on exchange rate at time of transaction and are not reflections of the current estimation or value of any cryptocurrency at time of viewing.
Use your platform as a 
generosity generator.
Launch your own fundraiser and directly support your favorite causes with help from your family and friends.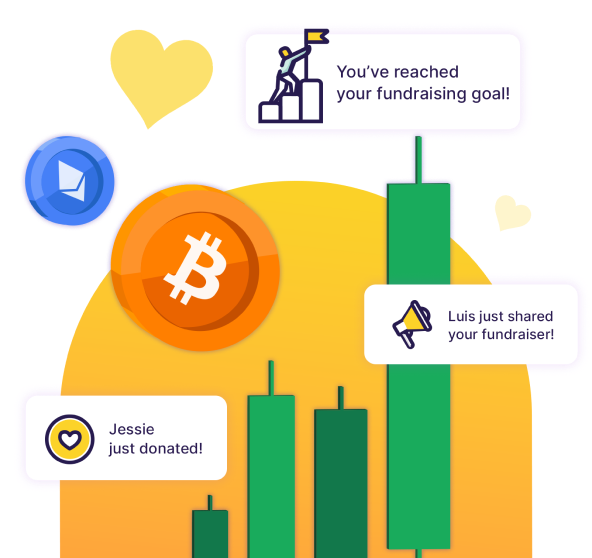 Thousands of organizations fundraise with crypto,
stock and more through The Giving Block
Tap into the fastest growing donor demographics and accelerate your fundraising
with non-cash assets like cryptocurrency, stock and Donor Advised Funds.