Fundraiser by Jenny Krause
Jenny's Baby Shower Fundraiser
Supporting
Reach Out and Read Colorado
Fundraiser by Jenny Krause
Jenny's Baby Shower Fundraiser
Supporting
Reach Out and Read Colorado
About this Fundraiser
As a board member at Reach Out and Read Colorado, a lifelong advocate of children's literacy, and a book lover, Jenny would love it if a charitable contribution were made in lieu of gifts. The Krause family has everything they need to welcome a baby home. These contributions will help to share the gift of literacy with families across Colorado. Jenny loves to read to Abigail any chance she gets and is looking forward to raising another book lover when Baby Boy arrives.
Learn more about this organization
Donation Profile: https://thegivingblock.com/donate/reach-out-and-read-colorado
Website: https://reachoutandreadco.org/
Twitter: @ReachOutReadCO
Statement: Reach Out and Read Colorado is an evidence-based nonprofit that gives young children a foundation for success by incorporating books into pediatric care and encouraging families to read aloud together. Reach Out and Read Colorado partners with healthcare providers to prescribe a developmentally- and language-appropriate book and talk with parents and caregivers about the importance of reading aloud at well-child visits from birth to 5 years of age, with a special focus on children growing up in poverty. By building on the unique, trusted relationship between parents and healthcare providers, Reach Out and Read Colorado helps families and communities encourage early literacy skills so children can begin school prepared for success. Children served by Reach Out and Read enter kindergarten with larger vocabularies, stronger language skills, healthier relationships, and a three- to six-month developmental edge.
$

777

raised from $

100

goal.
Donation data updated every 15 minutes.
All USD amounts are estimates based on exchange rate at time of transaction and are not reflections of the current estimation or value of any cryptocurrency at time of viewing.
Use your platform as a 
generosity generator.
Launch your own fundraiser and directly support your favorite causes with help from your family and friends.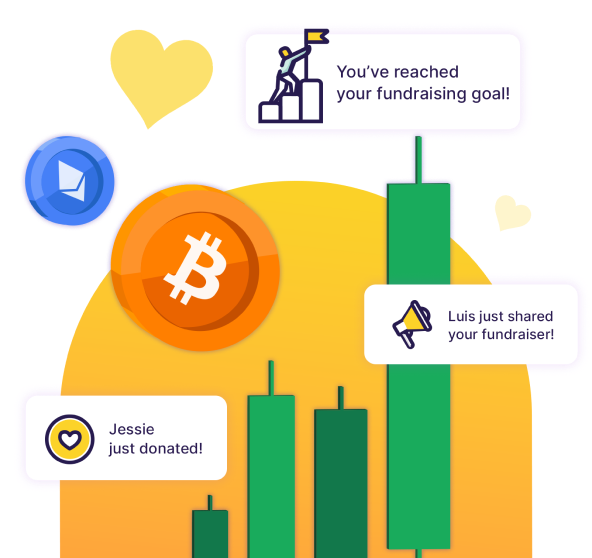 Thousands of organizations fundraise with crypto,
stock and more through The Giving Block
Tap into the fastest growing donor demographics and accelerate your fundraising
with non-cash assets like cryptocurrency, stock and Donor Advised Funds.