Fundraiser by Jane Wilson
Help provide lifesaving relief to children
Supporting
Save the Children®
Fundraiser by Jane Wilson
Help provide lifesaving relief to children
Supporting
Save the Children®
About this Fundraiser
Hello! I am so exciting to be raising money for Save the Children this giving season - join me and help provide relief to children across the United States! The U.S. still trails nearly all other advanced countries in helping children reach their full potential despite major advances for children over the past 30 years. Across the nation, 1 in every 7 children experiences shockingly high rates of hunger, school dropouts, teenage pregnancy and/or child death. Educating children gives them the tools to fight poverty, be healthy and safe. That's why we're working in the U.S. to ensure every child has access to a quality education, right from the start.
Learn more about this organization
Donation Profile: https://thegivingblock.com/donate/save-the-children
Website: https://www.savethechildren.org/
Twitter: @SavetheChildren
Statement: Save the Children is passionately committed to one goal: Giving all children the best chance for the future they deserve – a healthy start in life, to be protected from harm and the opportunity to learn. Every day, in times of crisis, here in the U.S. and in more than 110 countries around the world, we do whatever it takes to reach the most vulnerable children and their families.
$

31

raised from $

10000

goal.
Donation data updated every 15 minutes.
All USD amounts are estimates based on exchange rate at time of transaction and are not reflections of the current estimation or value of any cryptocurrency at time of viewing.
Use your platform as a 
generosity generator.
Launch your own fundraiser and directly support your favorite causes with help from your family and friends.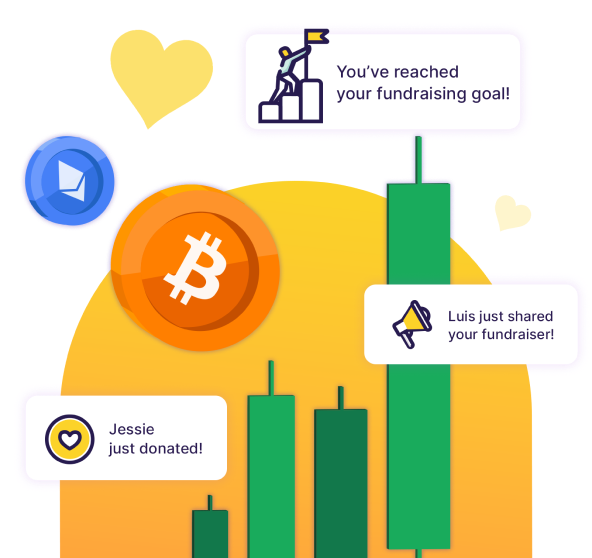 Thousands of organizations fundraise with crypto,
stock and more through The Giving Block
Tap into the fastest growing donor demographics and accelerate your fundraising
with non-cash assets like cryptocurrency, stock and Donor Advised Funds.