Fundraiser by Geopolitical War Inu
GWI WORLD PEACE MOVEMENT
Supporting
UNHCR, The UN Refugee Agency
Fundraiser by Geopolitical War Inu
GWI WORLD PEACE MOVEMENT
Supporting
UNHCR, The UN Refugee Agency
About this Fundraiser
Nobody wins in war. Let's be the change we want to see in this world. It's starts with us. This is a movement and we want world peace!
Learn more about this organization
Donation Profile: https://thegivingblock.com/donate/unhcr-the-un-refugee-agency
Website: https://www.unhcr.org/
Twitter: @Refugees
Statement: UNHCR, The UN Refugee Agency Families in need of humanitarian assistance The UN High Commissioner for Refugees, Filippo Grandi has stated that the humanitarian consequences on civilians of this conflict will be devastating. "Countless lives will be torn apart. We have already seen reports of casualties and people starting to flee their homes to seek safety." We urgently need your help to continue providing life-saving protection to families forced to flee their homes. UNHCR has stepped up our operations and capacity in Ukraine and neighboring countries. We remain firmly committed to support all affected populations in Ukraine and countries in the region. Your support can help ensure that Ukrainians forced to flee their homes are sheltered and safe. Please donate now. Mission Statement No one should be forced to flee their home. UNHCR, the UN Refugee Agency, is a global organization working to save lives, protect rights and build a better future for refugees, internally displaced communities and stateless people. We work to ensure that everybody has the right to seek asylum and find refuge from violence or persecution. With your help, UNHCR, the UN Refugee Agency can give refugees what you'd want for yourself and your loved ones - protection from harm, shelter, food, water, blankets, medical supplies, the chance to go to school and most importantly, the hope of a future
$

112

raised from $

100000

goal.
Donation data updated every 15 minutes.
All USD amounts are estimates based on exchange rate at time of transaction and are not reflections of the current estimation or value of any cryptocurrency at time of viewing.
Use your platform as a 
generosity generator.
Launch your own fundraiser and directly support your favorite causes with help from your family and friends.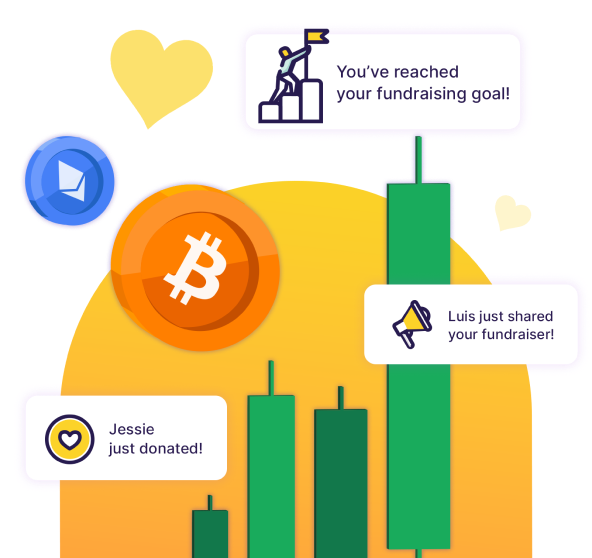 Thousands of organizations fundraise with crypto,
stock and more through The Giving Block
Tap into the fastest growing donor demographics and accelerate your fundraising
with non-cash assets like cryptocurrency, stock and Donor Advised Funds.