Fundraiser by Cephas Anaka
Cetric Foundation
Supporting
Accion International
Fundraiser by Cephas Anaka
Cetric Foundation
Supporting
Accion International
About this Fundraiser
Development and rehabilitation of community school classroom block
Learn more about this organization
Donation Profile: https://thegivingblock.com/donate/accion-international
Website: http://www.accion.org
Twitter: twitter.com/Accion
Statement: Accion International is a global nonprofit committed to creating a financially inclusive world, with a trailblazing legacy in microfinance and fintech impact investing. We catalyze financial service providers to deliver high-quality, affordable solutions at scale for the 1.8 billion people who are left out of — or poorly served by — the financial sector. For more than 60 years, Accion has helped tens of millions of people through our work with more than 200 partners in 63 countries. Accion receives philanthropic support from individuals, institutions and the public sector, both in the United States and globally. We work across a broad base of corporate and private foundation partners including Mastercard, Credit Suisse, FMO, Bill and Melinda Gates, MetLife, and Citi Foundations. In addition, we work with individual impact investors, philanthropic donors and the public sector to carry out our important and increasingly urgent mission.
$

raised from $

100000

goal.
Donation data updated every 15 minutes.
All USD amounts are estimates based on exchange rate at time of transaction and are not reflections of the current estimation or value of any cryptocurrency at time of viewing.
Use your platform as a 
generosity generator.
Launch your own fundraiser and directly support your favorite causes with help from your family and friends.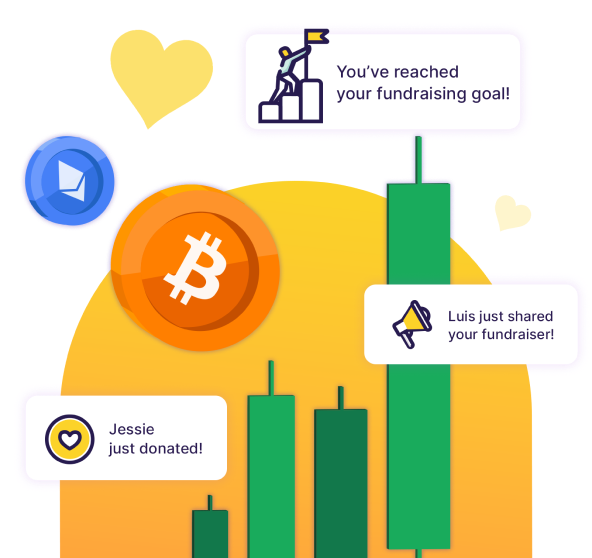 Thousands of organizations fundraise with crypto,
stock and more through The Giving Block
Tap into the fastest growing donor demographics and accelerate your fundraising
with non-cash assets like cryptocurrency, stock and Donor Advised Funds.