Fundraiser by Drew & AL
BoscoStrong
Supporting
Glioblastoma Research Organization - Brain Cancer
Fundraiser by Drew & AL
BoscoStrong
Supporting
Glioblastoma Research Organization - Brain Cancer
About this Fundraiser
Sad to inform, my friend's father, Dr. Joseph A Boscarino has passed away, 1/20/23 from Glioblastoma. Dr. Joseph Boscarino, the man who cured Hepatitis C, has had an illustrious career in advancing modern medecine, saving many lives and was was also a combat veteran of the Vietnam War Dr. Joseph A Boscarino has been an inspiration to many throughout his lifetime and passed away at home surrounded by loved ones. This type of tumor grows and spreads rapidly, often creating pressure on the brain. The five-year survival rate for glioblastoma patients is only 6.8 percent, and the average length of survival for glioblastoma patients is estimated to be only 8 months. Dr. Joseph A Boscarino's son is also suffering with the same brain cancer, and much as Dr. Boscarino, would have, we are trying to find a way to cure this disease. I am doing this to surprise my friend All donations that will be sent to the Glioblastoma Research Organization on his behalf. Appreciate everyone, All love ❤️
Learn more about this organization
Donation Profile: https://thegivingblock.com/donate/the-glioblastoma-research-organization
Website: https://gbmresearch.org/
Twitter: @glioblastomaorg
Statement: A 501(c)(3) nonprofit organization raising awareness and funds for new global, cutting-edge research to find a cure for glioblastoma. The purpose of the Glioblastoma Research Organization is to provide financial support to doctors and researchers around the world, that are working on developing cutting-edge technologies and clinical trials through research, to increase the rate of survival in patients, and find a cure for this disease.
$

raised from $

10000

goal.
Donation data updated every 15 minutes.
All USD amounts are estimates based on exchange rate at time of transaction and are not reflections of the current estimation or value of any cryptocurrency at time of viewing.
Use your platform as a 
generosity generator.
Launch your own fundraiser and directly support your favorite causes with help from your family and friends.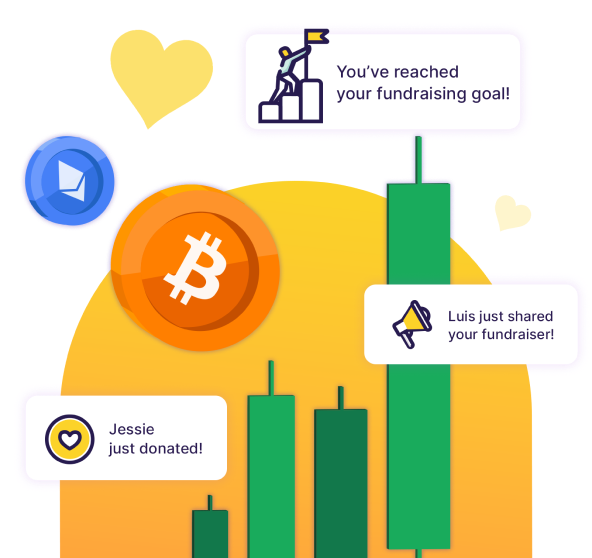 Thousands of organizations fundraise with crypto,
stock and more through The Giving Block
Tap into the fastest growing donor demographics and accelerate your fundraising
with non-cash assets like cryptocurrency, stock and Donor Advised Funds.